History of Bizen ware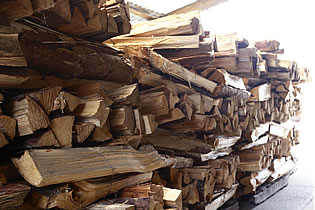 Pine Tree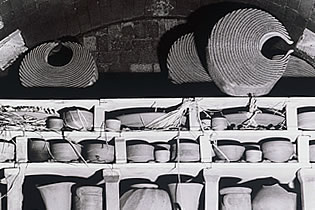 Placement into Kiln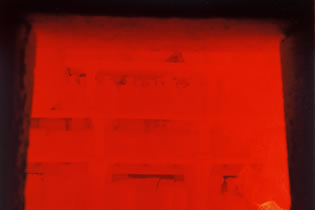 Baking in the Kiln
Characteristic of Bizen ware
The characteristics of Bizen ware are its hardness, color, and absence of glazing. Bizen ware is fired in a wood-burning kiln at high temperatures and results in effects called yohen. The prominent kiln effects are goma (sesame seed) and hida. Goma is an effect from the pieces having pine ash on them during firing. Hida is a kiln effect produced because of straw wrapped around the pieces. Bizen ware takes on different qualities as it is used over time. The simplicity of Bizen ware holds interest and is timeless. Because it does not have a glaze and is air permeable, water stays fresher longer. This quality makes Bizen ware ideal for water urns or vases. Nowadays, Bizen ware is used for serving beer and wine. Bizen ware is said to enhance the flavor of cuisine.
Use of Bizen ware
·Use as same as usual dishes.
·Dip in a water before use to prevent smells or oils from food penetrating the product.
·Sudden change of temperature may damage.
·Avoid pouring hot water into the ware suddenly.
·Use another container to make hot sake then use the Bizen ware to serve.
·Avoid using a microwave or dish washer.
·Wash as usual after use and dry well.
·Because it doesn't use glaze, the surface is not smooth.
·It may damage tables or shelves, use a cloth.
·We check the leaks of product, but flower vases might stain floors.
·Bizen ware is strong but keep it in a safe place in case of an earthquake.
·It absorbs moisture so, do not leave in water, wash quickly and dry well.

It originated in Bizen City, Okayama Prefecture. It is one of the six oldest kilns in Japan. It is mostly produced in the Imbe area of Bizen City, it is called Imbe-yaki as well.It does not use glaze. Baked with high temperature around 1250 celsius degree. The characteristic of Bizen ware is caused by Yohen (Kiln Effects). The finish will differ and each product has unique pattern. Bizen ware produced before the Edo era are called Ko-Bizen and they are valuable.
The oldest style of Japanese kilns. Other than Bizen, there are Tanba, Sigaraki, Seto, Tokoname, Echizen.
·
Living National Treasure
Government appointed individuals who are held as important intangible cultural assets. For Bizen ware, Toyo Kaneshige, Kei Fujiwara, Toshu Yamamoto, Yu Fujiwara, Atsushi Isezaki are designated.
·
Okayama Prefectural Living Treasure
For the craftmanship , Masami(Seihou) Kakumi, Tomoyuki Matsui, Yuuichi Yamamoto, Saizou(Tougaku) Mori, Tadashi Yoshimoto, Kousuke Kaneshige, Izuru Yamamoto are designated.
Clay of earthenware does not contain feldspar and called 'Tsuchimono'. Shigaraki, Hagi, Bizen wares are classified as earthenware.
The main components of ceramics are rich in feldspar and called 'Ishimono'. The finish of ceramics are white and the surface resembles glass. Mino, Imari, Seiji and Hakuji of China and Korea are examples.
A term used to describe a way of drinking sake in one big gulp. It is bigger than a Ochoko cup, smaller than Chawan cup.